Well Hello all of my fellow bloggers!!
It has been a while hasn't it? This is a loooong over due update, it will be kind of long but there are pictures :-)
The month of October..... I have no idea where the last two months went but I am surprised I remember anything about October.
The third Saturday of October Adam and I headed out for a day of fishing with my dad. It started bright and early in the morning, like 5 am! I know I know we are crazy but my dad and I have been going fishing together since I was in high school and I enjoy it so much, I am definitely a daddy's girl and I love the time we get to spend together on the lake. I like having Adam join us too and I don't think my dad minds either. We went to Strawberry reservoir because we had pretty good luck back in August so we thought we would try it again except this time we went ALL day. Unfortunately we did not catch a whole lot and we were out there for 12 hours!
We caught quite a few of these guys but not enough to do anything with.
On the 29th of October we threw a little Murder Mystery dinner party. It was a blast and I think everyone had a good time. We were guests at the Annonville Manor: "
The Anonville Manor closed for business years ago due to increasing rumors of eerie hauntings by ill-mannered spirits. A mysterious entrepreneur recently purchased the old hotel, renovated it, and announced that the Manor was free of ghosts and had been restored to the pristine caliber of the good ole' days when the Manor was the focus of entertainment for everyone. The new owner, choosing to remain anonymous, invited a random group of townspeople to a special pre-grand opening dinner party in the Majestic Ballroom of the hotel.To everyone's horror, a dead body that had been murdered in another room of the hotel was delivered to the ballroom! The guests rallied together in an intense investigation to figure out whodunit, the location of the crime, the motive, and murder weapon!"
The dinning room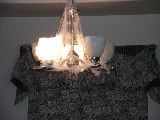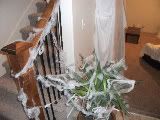 The Characters: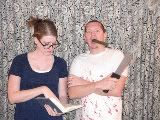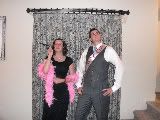 Rita Bookaday London Wilton
Sam Chawpalot Paul. A Tishon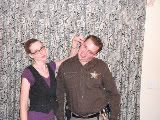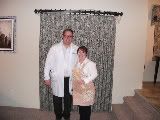 Principal Amethyst Dr. Doctor Dijon
C.R. Badges Suga Ann Flower
Professor Alberta Newton
Alby Stitchin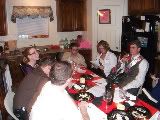 After the untimely death of London Wilton. Everyone is trying to figure out who done it.
The party was a blast with good food and great friends!
The next day we had a rainy but fun Halloween. We watched movies and had pizza and lots and lots of halloween candy! We didn't have many trick or treaters because of the weather so someone had to eat all of that candy. :)
That is October......someday I will update on November.